This article will guide you on how to easily connect to your RDP/VPS server using Windows Remote Desktop Connection.
What is RDP?
The RDP protocol, which stands for Remote Desktop Protocol, is Microsoft's proprietary protocol that is installed by default on all Windows operating systems so that users can graphically access any system and server (Windows VPS/RDP).
How To Connect A Windows VPS Or RDP Server On Windows 10?
There are two ways to connect to Windows VPS/RDP. The first way to run Remote Desktop Connection is to search for it in the Windows search box, and the other way is through Run Search System.
Step 1 – Search for the word Remote Desktop Connection in the Windows search box.
Note: In this method, you can see the list of IPs that you have connected to through Remote Desktop Connection in the Recent section. 
Step 2 – To run Run Search System, you must press the Windows key + R simultaneously and type mstsc and press OK.
Step 3 – In the opened window, you can enter the IP address of your Windows VPS/RDP server or hostname in the Computer box and press connect button.
For Example:
server IP Address( 192.168.X.X ),
hostname( server.domain.com )
You can also set the connection settings such as Remote audio, Printer, Display configuration and etc. for connection from the show option section.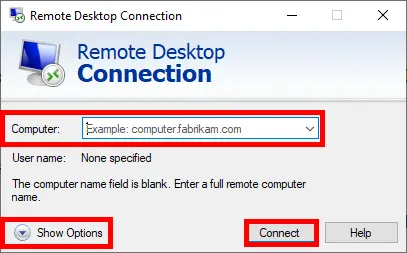 Step 4 – A new page will ask you if you trust the server you want to connect to your Windows VPS /RDP server, so press Connect.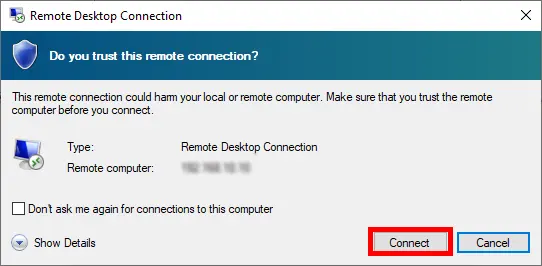 Step 5 – After confirmation, you need to enter the Username and Password of your VPS/RDP server and press OK so that you can connect to your Windows server environment.
Note: Then it will show you a message to connect to the server, which you should skip to connect.
Conclusion:
It allows you to use this protocol you can easily access the information available in Windows VPS by accessing the Internet in all parts of the world and Windows RDP access and you can also download your information, Delete old information and even upload new information.
With Administrator access, you can also fully control your server and use its features from your laptop or PC, reducing your computer's storage space.
Also, by downloading the Remote Desktop Connection software, you can easily connect to your Windows server even on devices with Android and Mac operating systems.
I hope you've found this article useful. If you face any issues in the RDP connection or login process, please feel free to contact us, and also you can leave us a comment.
Also, for more security of your Windows VPS and RDP server, you can read the tutorial on changing passwords and Server ports.