As businesses and individuals increasingly rely on virtual private servers (VPS) to store their data, it has become more important than ever to ensure the safety and security of this information. One way to do this is through regular backups of your VPS. In this guide, we will provide a step-by-step tutorial on how to back up a Windows VPS using several different methods.
Why Backup is Important to Your Windows VPS?
Backing up your Windows VPS is essential for several reasons. Firstly, it provides a safety net in case of accidental deletion or corruption of data. Secondly, it allows for easy restoration of data in case of system failure or hacking. Finally, it enables easy migration to a new server or hosting provider if necessary. Also, you can buy any VPS with crypto
How to Effortless Windows VPS Backup: A Step-by-Step Guide
We have explained three ways to back up Windows here, and you can follow one according to your taste, time, and budget.
Method 1 – Manual Backup Using Remote Desktop Connection
The most straightforward way to back up your Windows VPS is by using Remote Desktop Connection (RDC) to access your server and manually copy the files you want to back up to an external drive. Here are the steps:
Step 1 – Open Windows RDP
Open Remote Desktop Connection and connect to your VPS.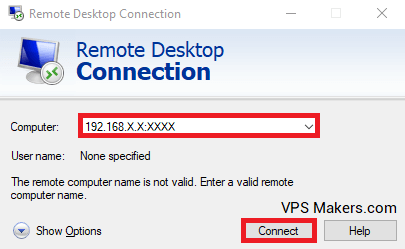 Step 2 – Chosse Files
Navigate to the files and folders you want to back up.
Step 3 – Copy Files
Right-click on the files and select "Copy."
Step 4 – Choose an External drive 
Navigate to the external drive you want to store the backup on.
Step 5 – Paste your files chosen
Right-click and select "Paste."
Step 6 – Waiting
Wait for the files to finish copying.
While this method is simple and straightforward, it can be time-consuming if you have a lot of data to back up, and there is a risk of human error during the copying process.
Method 2 – Scheduled Backup Using Windows Server Backup
A more efficient way to back up your Windows VPS is by using the built-in Windows Server Backup tool. This method allows you to schedule regular backups, so you don't have to worry about forgetting to do it manually. Here's how:
Step 1 – open Server Manager
Open Server Manager on your VPS.
Step 2 – Open Local Server Tab
Navigate to the "Local Server" tab and click on "Windows Server Backup."
Step 3 – Backup Schedule
Select "Backup Schedule" on the right-hand side of the window.
Step 4 – Set the frequency of Backups
Choose the frequency of backups (daily, weekly, or monthly) and the time of day you want the backup to occur.
Step 5 – Select the backup destination
Select the backup destination, which can be an external hard drive, network location, or a VHD file.
Step 6 – Choose Full 
Choose the files and folders you want to backup, or select the "Full Server" option to backup everything.
Step 7 – Review
Review the backup settings and click "Finish."
Step 8 – waiting
Wait for the backup to complete.
Note: Windows Server Backup is a reliable and straightforward way to automate backups, but it can be limiting in terms of customization options.
Method 3: Cloud Backup Using Azure Backup
For those who prefer a cloud-based backup solution, Microsoft's Azure Backup offers an excellent option for Windows VPS users. Azure Backup is a cloud-based backup and recovery solution that can be used to back up data to the cloud for offsite protection. Here's how to use Azure Backup to back up your Windows VPS:
Step 1 – Azure portal
Create an Azure Backup vault in your Azure portal.
Step 2 – Installing 
Install the Azure Backup agent on your Windows VPS.
Step 3 – Configure the backup
Configure the backup policy to specify what data to back up, how often to back up, and where to back up the data.
Step 4 – Monitor
Monitor the backup status through the Azure portal.
Note: Azure Backup provides reliable and scalable cloud-based backup protection for your Windows VPS, but it comes at an additional cost and requires some setup.
Conclusion
backing up your Windows VPS is an essential task that should not be overlooked. It ensures that your data is safe and can be restored in the event of a disaster. By following the steps outlined in this guide, you can create a reliable backup strategy for your Windows VPS. Remember to choose a backup method that suits your needs and budget, schedule regular backups, and test your backups to ensure they are working correctly. With a well-executed backup plan in place, you can have peace of mind knowing that your Windows VPS data is protected.