In recent years, cryptocurrencies have gained significant popularity as a form of digital currency. Alongside this rise, the demand for privacy and anonymity in online transactions has also increased. As a result, many service providers, including VPS hosting companies, have started accepting cryptocurrencies as payment options. In this guide, we will walk you through the process of buying a Virtual Private Server (VPS) using cryptocurrency on VPSMakers, a reputable VPS hosting provider.
A Step-by-Step Guide to How to Buy VPS with Crypto?
Buying a Virtual Private Server (VPS) with cryptocurrency has become increasingly popular, providing users with an additional level of privacy and security for their online transactions. By following their intuitive website interface, selecting the desired VPS plan, providing your billing details, and choosing cryptocurrency as the payment method, you can generate an invoice with a unique wallet address and precise payment amount. Once you initiate the transaction from your cryptocurrency wallet and it is confirmed on the blockchain, VPS Makers will process your order and send you the account details for your new VPS. With this step-by-step guide, you can seamlessly embrace the advantages of cryptocurrencies and enjoy a secure VPS hosting experience with VPS Makers.
Step 1 – Choose Your VPS Plan
The first step is to visit the VPSMakers website and explore their VPS plans. Determine the specific plan that best suits your requirements in terms of server resources, operating system, and other features. Once you have made your decision, proceed to the next step.
Step 2 – Add the VPS to Your Cart
Click on the selected VPS plan and review its details. If you are satisfied with the plan, click on the "Add to Cart" button to proceed with your purchase.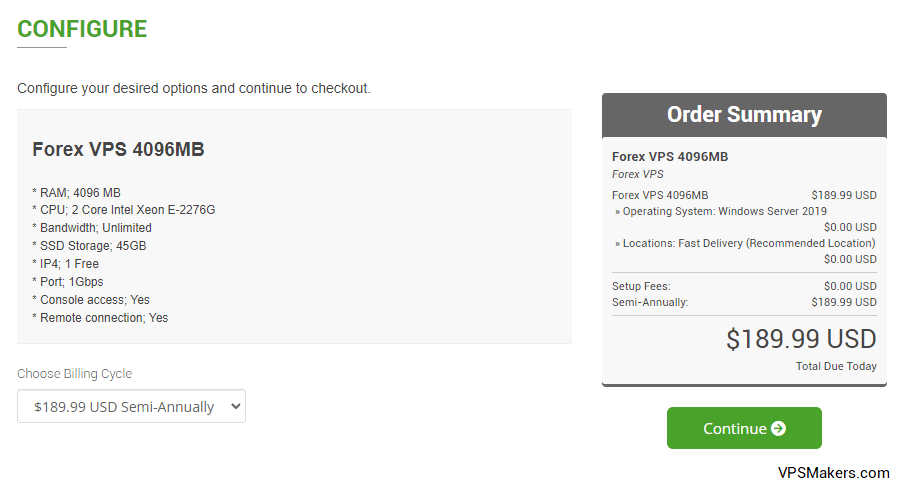 Step 3 – View Your Cart and Checkout
After adding the desired VPS plan to your cart, you will be redirected to the shopping cart page. Here, you can review the items in your cart, including the selected VPS plan, its price, and any applicable discounts. If everything looks accurate, click on the "Checkout" button to proceed.
Step 4 – Provide Your Billing Details
On the checkout page, you will be prompted to enter your billing details, including your name, email address, and any additional information required by VPSMakers. Fill in the necessary fields accurately and move on to the next step.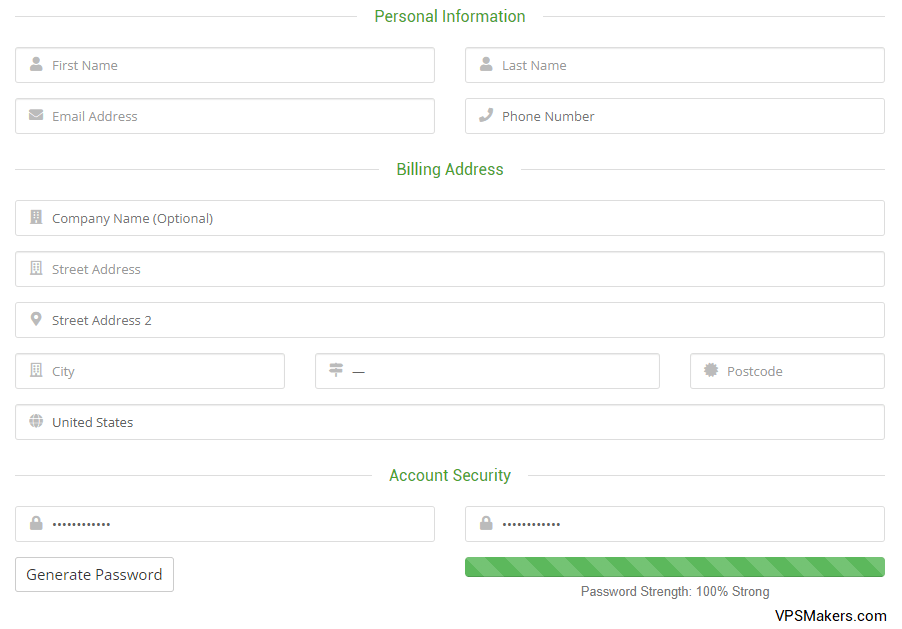 Step 5 – Select Cryptocurrency as the Payment Method
Once you have entered your billing details, you will reach the payment section. Here, you can select your preferred cryptocurrency as the payment method. VPSMakers accepts various cryptocurrencies, such as Bitcoin (BTC), Ethereum (ETH), and Litecoin (LTC). Choose the cryptocurrency you wish to use for your transaction. also, you can choose Paypal or PerfectMeney too.
Step 6 – Generate an Invoice
After selecting your cryptocurrency, the VPSMakers website will generate an invoice for your purchase. This invoice will provide you with a unique wallet address and the exact amount of cryptocurrency required to complete the transaction.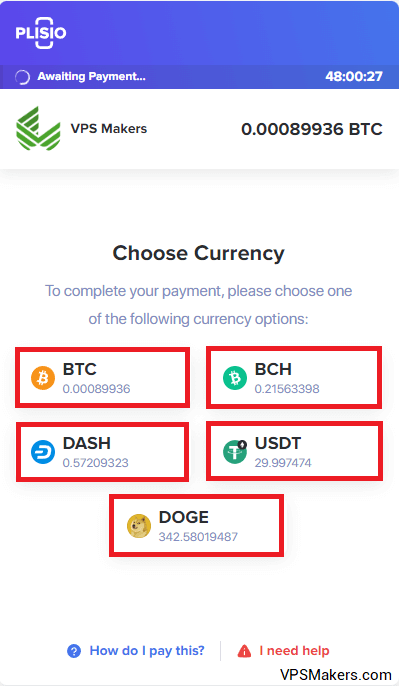 Step 7 – Make Payment
To complete the payment, open your cryptocurrency wallet and initiate a transfer to the wallet address provided in the invoice. Ensure that you enter the correct wallet address and double-check the amount of cryptocurrency to be sent. Cryptocurrency transactions are generally irreversible, so caution is advised during this step.
Step 8 – Confirm Payment
Once you have initiated the transfer, it may take some time for the transaction to be confirmed on the blockchain network. VPSMakers will monitor the blockchain for incoming transactions and will update your order status accordingly.
Step 9 – Receive VPS Account Details
After your payment is confirmed, VPSMakers will process your order. You will receive an email containing your VPS account details, including the server IP address, login credentials, and any additional information required to access and manage your VPS.

Conclusion
Purchasing a VPS using cryptocurrency provides an added layer of privacy and security. By following the steps outlined in this guide, you can seamlessly buy a VPS from VPSMakers using your preferred cryptocurrency. Embrace the benefits of digital currencies and enjoy the flexibility and convenience they offer for online transactions. Happy hosting!